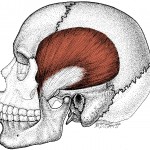 There are two sets of large muscles that can cause pain in your jaw and the area around your jaw joint:  the massater muscles and the temporalis muscles.  Check out the Category for Jaw Pain on the right hand side of this website for more articles on the massater and other muscles that can be involved.
You can feel the muscle that crosses your jaw joint if you place your fingers over the joint and pretend you are chewing.  That's the massater.  You have two–one on each side.
You can also feel the temple muscles by placing your fingers on the sides of your head in line with your eyebrows and pretending to chew.   Again, this muscle is on each side of your head.  It the temporalis muscle.
There is a depression in your skull on each side and the temporalis muscle is packed in there.  It's actually a pretty good sized muscle.
The red area in the picture is the muscle and the white area that attaches to the lower jaw bone is the tendon.
Beside causing head and jaw pain, these muscles can also cause pain in your teeth!  It's not your teeth, though.  It's trigger points in the muscle that fire into your teeth and cause it to feel like tooth pain.
What can you do to make the temporalis muscle relax so it will bother you less?
1.  Pull your hair.  If you do this correctly it is called 'Cranial Fascial Release.'  Here's how:
Glide your fingers through your hair at the scalp over your temple muscles.  Close or clench your fingers with hair laced between them.  As you do this, you will start pulling your hair at the roots or scalp.  You will feel the pull or stretch on your head.
This is different from holding your hair away from your head and pulling.  One woman told me, "Oh yes, I know about hair pulling–I had sisters!"  Ouch!
This type of pulling will help lift the skin and muscle and fascia from the bone.  It will help relax the muscle.
At first it will feel quite tender but if you can hold it for several seconds you will feel less tenderness.  That's because the muscle is relaxing.
After a few sessions you can slightly twist your hand after you clench your fingers around your hair at the scalp.  Twist your clenched hand to the right and hold until you feel the muscle start to be less tender.  And then twist in the opposite direction.  It's usually too tender to lift and twist the first time or two.
As you can see in the picture, this is a large, wide muscle.  Work the whole muscle by moving your hand to adjacent areas and starting the pulling again in each area.
You don't have to do the whole muscle or both temple muscles at once.  You can do a little and take a break if your hand gets tired.  Just come back to it later when you are ready.
Some therapists try pressing into the temporalis muscles.  This doesn't seem to work as well as pulling them and I, personally, find it to be pretty annoying.
2.  Apply either warm compresses or cold packs to these muscles.  If heat is the wrong choice, your muscles will feel a bit worse rather than better and more relaxed.   If that happens, switch to cold packs.  You can also use contrast therapy by applying heat, cold, heat, cold.
The good thing about applying heat or cold therapy is that you are also treating nearby muscles at the same time.  Check out the Ice & Heat Category here on the right hand side.
3.  There's a good chance that the muscles at the base of your head are also involved.  Heat might be a fine treatment there at the top of your neck because heat is usually the treatment of choice for muscles.
But if the nerves are aggravated at the base of your skull then cold therapy is the way to go.
4.  Chewing food and gum may aggravate your symptoms OR chewing may help your muscles to relax.  It depends on the cause of your jaw pain and how tight the muscles are.
Pretending to chew with your lips closed and teeth apart may help your chewing muscles to relax.
5.  Posture can cause jaw pain.  Check your posture.  If your head is forward (in front of your body) rather than over your body it strains the muscles around the jaw.
If you have upper back and neck pain or knots in your back, there is a great chance that your posture needs improvement.
Gravity is always trying to pull us forward and down.  We can counteract that by keeping a strong back side from knees to head.  There are articles at http://SimpleStrengthening.com to help you strengthen your backside.
If you take action you can help your temporalis muscles relax and help your jaw to feel better naturally.